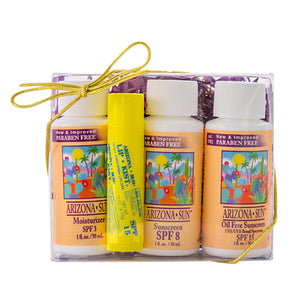 Three ArizonaSun® Skin Care Product Samples and LipKist® Lip Balm
SKU 325
Three ArizonaSun® Skin Care Product Samples with LipKist Lip Balm Included.
These cute little samples are the perfect size for purse, sports bag, golf bag and traveling.
Select Three 1 oz. bottles of any of our Arizona Sun Skin care Products to be wrapped in this acetate box with gold elastic bow.
Gift Set can only include 1 SPF30 Product.
Regular price $18.00 Sale